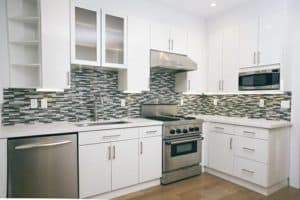 With the right design, you can turn your small kitchen space into an efficient and engaging environment that friends and family will enjoy.
When redesigning your kitchen for functionality, you're going to have a lot of questions.
Understanding your kitchen's hidden potential is the key to developing a kitchen cabinet design that fits your small space and optimizes storage areas. At Lectus Cabinets, we assist you with your small kitchen design by using every square inch to maximize space without compromising style. We can perfectly blend both form and function, even in small spaces, to create a truly remarkable kitchen.
We asked our designers at Lectus Cabinets for their thoughts. Here are a few ideas to consider to make sure your small kitchen is functional:
Always use your corner space and utilize Magic Corners, LeMans units, or Lazy Susans to access the space.
Maximize your storage by using interior fittings and drawers, so items don't get 'lost' in the back of your cabinets.
Maximize your vertical space by having wall cabinets reach to the ceiling.
Increase the depth of wall cabinets from the standard 12" to 15".
Don't neglect the storage above your fridge. Install a 24" deep cabinet over the fridge to store less frequently used items.
Try to squeeze in a pantry, even a small pull-out.
Look at your existing space. Can you turn a closet into cabinetry with roll outs?
Use a microwave/hood fan combination, or consider eliminating the microwave completely if it is not used frequently.
Next time you find yourself asking, "How do I make my small kitchen more functional?" give our Lectus Cabinets Customer Care team a call. We'll be happy to answer any questions on your small kitchen space options.