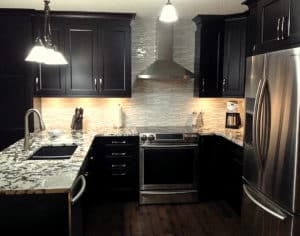 Your home is truly a reflection of you and your family. And with renovation comes an opportunity for new personalization – the chance to create a space that reflects your style and enhances your life.
Creating a kitchen design that's a true reflection of your lifestyle may seem difficult. To help, the team at Lectus Cabinets has created this three-step process to help you identify your distinctive kitchen style.
Step 1: Finding Inspiration
Whether it's for your kitchen, bathroom, or another room in your home, the design of your cabinetry extends beyond basic functionality. The aesthetics – how your room will look and feel – can help create a space of recovery and regeneration. Maybe you feel most comfortable surrounding yourself in rich, warm colors. Or crisp, clean minimalism brings inner peace. To begin the discovery process, just look around you at these sources of inspiration:
Wardrobe – Fashion and design are closely linked. Peruse your closet – maybe the fabric from a scarf or your favourite pair of pants will spark creativity.
Travels – Many of our happiest moments are experienced when travelling. Mementos of our travels help us recapture that feeling of contentment and adventure.
Hobbies – Are you a connoisseur of French cuisine? Or maybe classic cars are more your speed. Hobbies evoke images of textures, colors, and styles. For example, if you are an avid gardener or nature-lover, perhaps you would like to bring the outdoors in by selecting cabinetry and other natural materials that feature textured elements or soft greens and watery blues
Collections – Maybe you have objects that are special to you. There might be a painting with colors that are particularly pleasing, a sculpture or an artifact that inspires you, or nostalgic china. Any of these can act as a great starting point for design inspiration.
Step 2: Recognizing Popular Styles
The second step to creating your customized design is being able to identify and describe some of the most prominent styles.
Contemporary
Straight lines and clean angles; gentle waves or arcs are used sparingly.
Smooth, flat unadorned surfaces.
Simple shapes and styles.
Neutral color palate, sometimes punctuated with bold color.
Slab doors are used for their simplicity.
Cabinet doors made of wood, painted materials, laminate, thermofoil, or frosted glass and aluminum.
Traditional
Surfaces are smooth, like fine furniture.
Rounded design elements challenge clean lines.
Color palette can be rich and warm or fresh and clean; both evoke comfort and elegance.
Flat panel or raised panel door styles are used to add character to a traditional space.
Cabinet doors are made of wood and/or painted materials.
Clear or specialty glass doors are used to highlight the space.
Decorative finishes such as chalking, glazing, and hand-rubbing are common.
Transitional
A blend of traditional and contemporary features creates a diverse, yet balanced space.
Rounded profiles juxtaposed with clean lines.
Textured and smooth surfaces unite.
Varied color palette options to evoke comfort, simplicity, and sophistication.
Slab and flat panel door styles are used on their own or together to create visual interest.
Any door material fits; wood, painted material, laminate, thermofoil, or metal.
Step 3: Making The Most of Nearby Tools
Technology and home and garden media are additional sources of rich information that can help you better define your style. Help is as close as a click of a button or flip of a page. Nothing, however replaces the personalized service of a Lectus Cabinets design professional.
Magazines and Home & Garden Television Programs – Supermarkets, bookstores, and libraries have a wealth of magazines showcasing classic cabinet designs and the latest trends. Similarly, the latest in cabinetry design can be seen on home & garden shows.
Our Website – We have designed this website to assist you in your journey towards a new space. We hope you gain clarity from the information, and inspiration from the gallery of beautifully planned rooms – from the kitchen and bathroom, and throughout the rest of your home.